Puerto Ricans United, Inc.
(THE PUERTO RICAN FESTIVAL OF NEW HAVEN)
Puerto Ricans United, Inc. (PRU) was created because of the growing demand from Puerto Ricans living in the New Haven area to relaunch a Puerto Rican Festival. If you have lived, worked, or visited New Haven in the 80s, 90s, or early 2000s, then you remember the Areyto Festival, the Puerto Rican Day Parade, and Loiza Festival were all signs that summer was here in our city!
CELEBRATING
6 YEARS
AND COUNTING
PRU Slavery Abolition Day 2022
[Hartford, CT] – The Coalition of Connecticut Puerto Rican Day Parades Festivals, which includes the CICD-Puerto Rican Parade, Inc. Hartford Chapter, Puerto Rican Parade of Fairfield County, Puerto Rican Festival of New Haven, Meriden Puerto Rican Festival, Boriken Festival of Norwich, and the Waterbury Puerto Rican Parade & Festival, released the following statement today regarding Hurricane Fiona's devastating impact on Puerto Rico.
"Our hearts and prayers are with our brothers & sisters in Puerto Rico as they once again are faced with the catastrophic devastation of a natural disaster – Hurricane Fiona. We continue to monitor official updates, media reports, and speak with families & advocates on the ground. In the last forty –eight hour, we have received countless messages asking how we – the Connecticut Puerto Rican community & beyond – can help. 
As we have learned from past, we must be smart and strategic in our efforts. This is why in accordance with Governor Pedro Pierluisi of Puerto Rico's request for the diaspora not to send humanitarian aid, at this time; we will not be organizing a statewide effort to collect humanitarian aid.  Instead, we are relaunching "CT Helps PR/ CT Ayuda PR", an online relief effort that was launched in the aftermath of the 2020 earthquake.  Should you want to donate to our efforts you can do so by clicking here www.CTHelpsPR.org / www.CTAyudaPR.org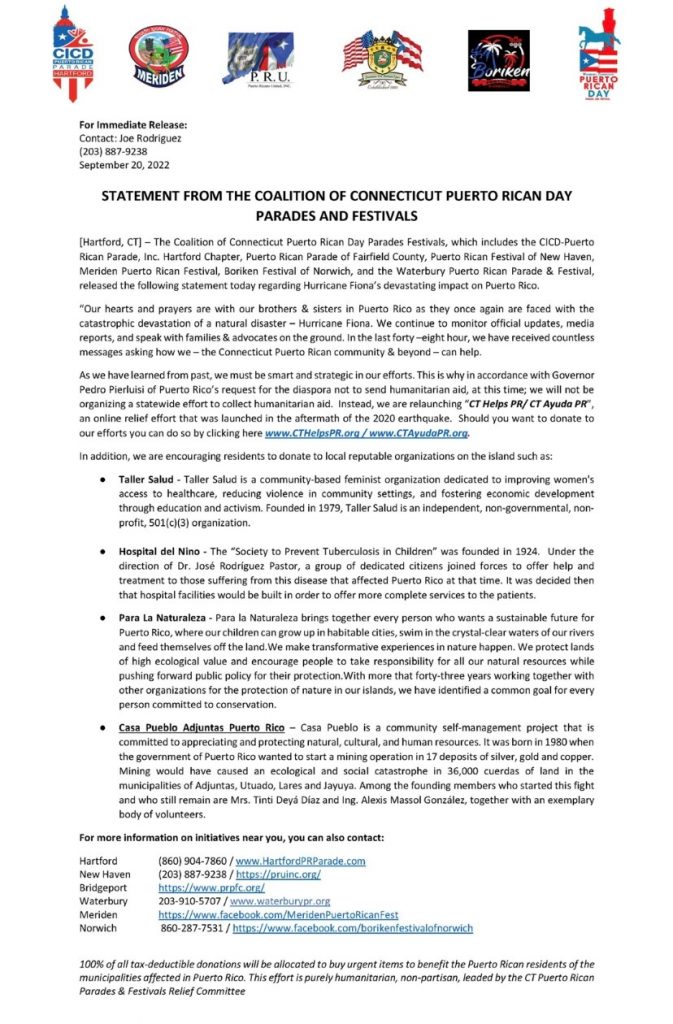 Our 2022 Sponsors & Partners